smart thinking
We don't just do bowsers – we strive to create a fleet grounded in intuitive engineering and marked out by smart thinking. Every single bowser that leaves our site has been uniquely built to solve a specific problem. From watering new vegetation on the banks of the M3 development, to refuelling equipment in less than five minutes, everything we do is geared towards providing solutions. We understand that modern construction sites and infrastructure projects cannot run without diesel or water. This is what we exist for – to ensure that our customers have the fluids they need, where and when they need them. Our bowsers don't just deliver fuel and water. They help you run your projects – on time, on spec and on budget.
View our Bowser Solutions for:
Welfare Support
helping take care of your crew
Two-wheel drive
These smaller bowsers are more compact and versatile, making them the perfect option for road, air and rail sites where space is limited. They include the:
7.5 tonne combi
Based on a 7.5 tonne chassis
Bunded fuel tank with integral pump
Water tank fitted with separate pump for dual delivery
Chapter 8 compliant
Non ADR
3,000 litres water
950 litres refuelling
Ground operated
7.5 tonne welfare support unit
Based on a 7.5 tonne chassis
600 litres clean water
2,000 litres waste
500 litres refuelling
Non ADR
Chapter 8 compliant
Ground operated
For larger projects T&M also offer a custom-made four-wheel drive bowser
18 tonne welfare support unit
Based on an 18 tonne 4×4 chassis
5,000 litres waste
4,000 litres clean water
200 litres refuelling
Non ADR
Chapter 8 compliant
Ground operated
One metre wading capacity
Dust Suppression
drive dust levels down
Cleaner air helps crews to breathe easier, sites to stay cleaner and plant to run better. T&M water vac tanks have a unique function – they not only eliminate water by extracting and depositing it in designated lakes, but they then repurpose this water for dust suppression. Dust is a safety hazard, capable of causing site shut-down and financial risk. We understand this risk, and have built a bowser specifically designed to tackle dust. They are a trademark product of the T&M range offering immediate and effective aid in the construction process.
water vac tank
Based on an 18 tonne 4×4 chassis
Four-wheel drive so versatile on wet ground
10,000 litre capacity
High capacity vacuum pump
Dust suppression system
Can vacuum slurry as well as water
Highly manoeuvrable for quick access across sites
Road legal and Chapter 8 compliant
Fuelling Solutions
fuelling infrastructure since 1988
T&M bowsers are specially engineered to deliver fuel in the most effective and efficient method possible. Taking great pride in the quality of our bowsers, our team of engineers at T&M work methodically and precisely to ensure that each bowser that leaves the factory meets our quality standards. Our fuelling bowsers now come fitted with AdBlue delivery system tanks and pumps. With the daily running cost of plant increasing, a site's progress and project's budget depends on keeping equipment running.
Our bowsers use the Banlaw delivery system and inline Alpeco fuel meter to refuel plant 75% faster than traditional delivery methods – essentially, you can refill your plant in the time it takes to have a tea break. The tanks are tested to the highest standard, with full roll-over liquid retention systems. We have our own bowser drivers, all of whom are fully compliant with ADR qualifications, are CSCS card holders with fit-to-work medicals.
We offer fuelling bowsers in three sizes:
3.5 tonne fuel bowser
Mounted on 3.5 tonne chassis
950 litre tank capacity
Integral pump which can be adapted to suit client requirements as can the hose configuration
Versatile on small sites
Non ADR
Chapter 8 compliant
Compliant with Transport of Dangerous Goods
7.5 tonne combi
Based on 7.5 tonne chassis
Bunded fuel tank with integral pump
Water tank fitted with separate pump for dual filling
950 litres fuel
3,000 litres water
Chapter 8 compliant
Non ADR
Compliant with Transport of Dangerous Goods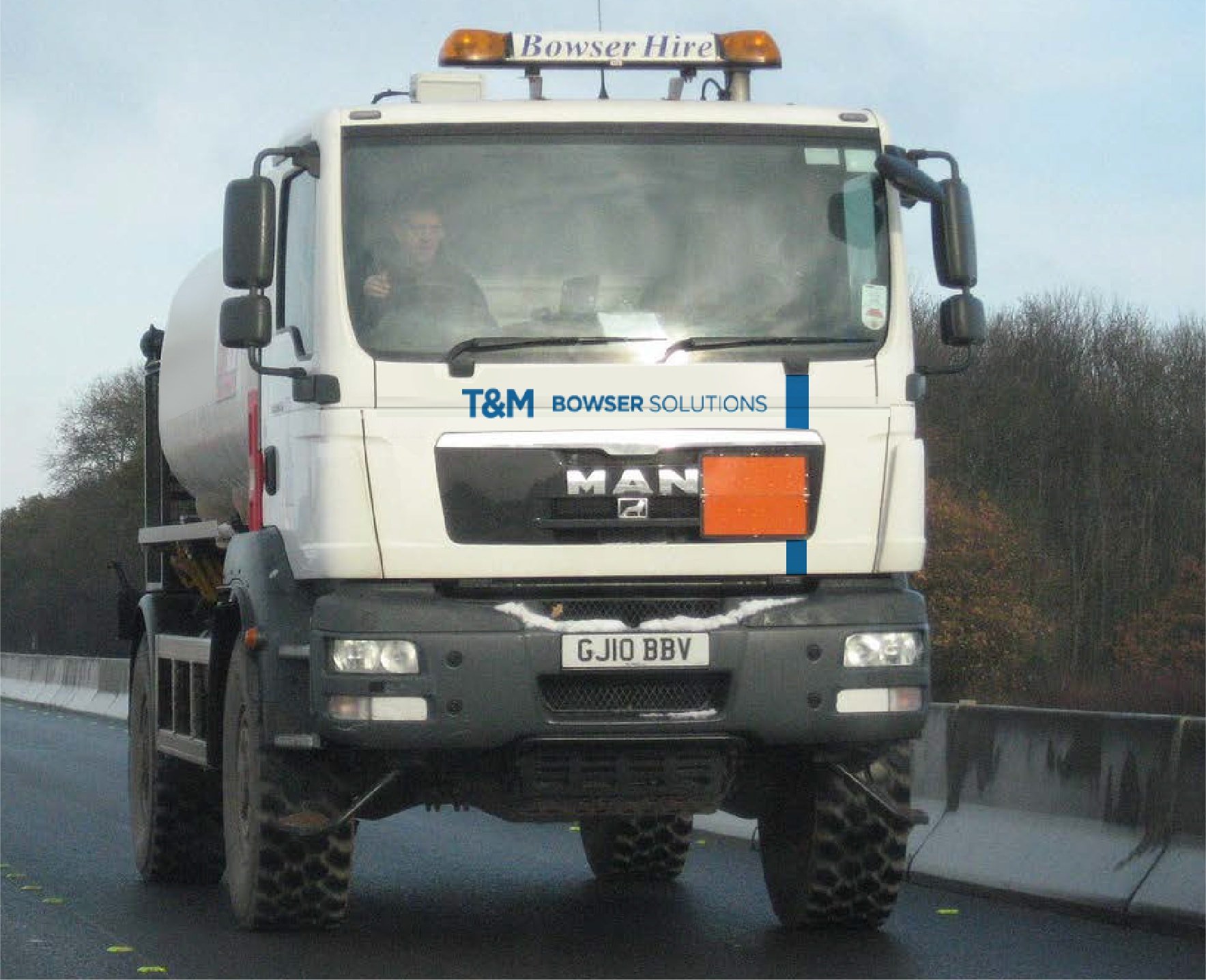 18 tonne fuel bowser
Four-wheel drive
Based on 18 tonne chassis
10,000 litres fuel
Banlaw fast delivery system
Alpeco inline fuel meter
Separate pumps for dual fuelling
Dedicated AdBlue tank
Chapter 8 compliant
ADR Vehicle
75% faster refuelling
Built to BS EN 13094
View our Bowser Gallery
Water Solutions
Have water where and when you need it most.
Easy access to clean, quickly-delivered water is key to running projects effectively. Water is vital for hydroblasting, cutting and enabling soakaway testing, our bowsers can bring 10,000 litres of water at any one time. Water bowsers can also be used as an innovative problem solver such as watering the south-facing bank of the M3 in the summer to encourage grass growth and fix the soil. T&M has a range of water bowsers specifically designed to solve the challenges of modern infrastructure, maintenance and construction projects.
3,000 to 10,000 litre clean water capacity
7.5 tonne and 18 tonne chassis
2-inch diameter Honda pump
Pipe diameter of up to 6-inch delivery
Road legal and Chapter 8 compliant
Four-wheel drive
Fuel Storage System
your fuel. our business.
T&M fuel storage tanks are able to store large quantities of fuel on site, allowing us to easily distribute fuel on site. Putting fuel supplies where it counts, T&M storage tanks are safe, fully certified and checked, and placed on site to ensure your crew have access at all times.
55,000 litre holding tank (other sizes available)
Fitted with self-contained pump and fuel nozzles
Computer-based distribution system, tracking all fuel drawn
Overfill prevention system
Tank watch system monitoring fuel stock in real time
Can be delivered to site without use of a crane